CHANIA VENETIAN HARBOUR - BOAT TOURS
CHANIA VENETIAN HARBOUR Platanias & Chania Boat Tours Departure Platanias harbour Private Boat Trips Boat excursions
CHANIA VENETIAN HARBOUR
Chania Boat Tours Private Boat Trips Platanias & Chania
Boat excursions Departure from Platanias harbour
Destination : Venetian old Harbour, Lazaretta islet , Theodorou island

Boat type : Powerboat Soul Star

Boat Location : Platanias harbour
Prepare to take a unique trip, back in time, and enjoy Cretan, Venetian, and Ottoman historical elements that make our island so special!
Our journey begins at Platanias Harbour where you will be welcomed aboard the newest addition to our fleet, the powerful "Soul Star" RIB. Our experienced team member will first explain safety precautions, after which you will be ready to begin your sea adventure!
We will reach our first destination at the Old Venetian Harbour in approximately 15 minutes. The city's most prominent and prized landmark, the Lighthouse, stands guard at the entrance of the harbor. Originally built in the 16th century by the Venetians who occupied Chania at the time, it was later rebuilt due to natural decay in the 1830's by the Egyptian troops sent to support the weakening Ottoman Empire who ruled during this period. It resembles a minaret and is often referred to as the "Egyptian Lighthouse" for this reason.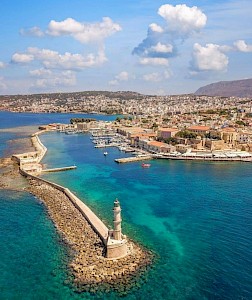 Upon leaving the harbor, we will continue our journey towards Lazaretta islet, located just off the coast of town. This islet is named after Lazarus the patron saint of lepers, and was used by the Venetians in the 17th century as an asylum for those suffering from the disease. Some remnants of the foundations of the buildings located there are still visible today. The shrine of Saint Nicholas is also located on the island, built by a local to show gratitude to the saint for helping him survive a crisis while at sea. Once in the island, you can enjoy the clear waters and rich marine life by snorkeling or swimming, or you may prefer to spend your time sunbathing.
As we head back to Platanias Harbor, our last stop will be an underwater attraction, a sunken Junker Ju 52 German airplane wreck from WWII, located very close to Theodorou Island. There you may dive down to explore the wreck! Theodorou Island is a national park and a Natura 2000 protected area because of the unique flora and fauna found there. Most famous of these are the local mountain goat Kri-Kri , which is an endangered species in the region. Due to its protected status, we cannot swim to shore, but the waters sounding the islands are crystalline and perfect for snorkeling and swimming!
Prices
4 hour private tour …. 1-8 person

380

euro (per boat, not per person)
Capacity: Maximum 8 passengers on board
Include in the price
⦁ skipper
⦁ professional snorkelling equipment ( masks, fins, snorkels)
⦁ fuel
⦁ vat and insurance
BOOKING REQUEST CHANIA VENETIAN HARBOUR
MORE TOURS
YACHT TOURS
HALF DAY & FULL DAY
More Info: Yacht Tours
VAN TOURS
CUSTOM VAN TOURS & EXCURSIONS
More Info: Van Tours