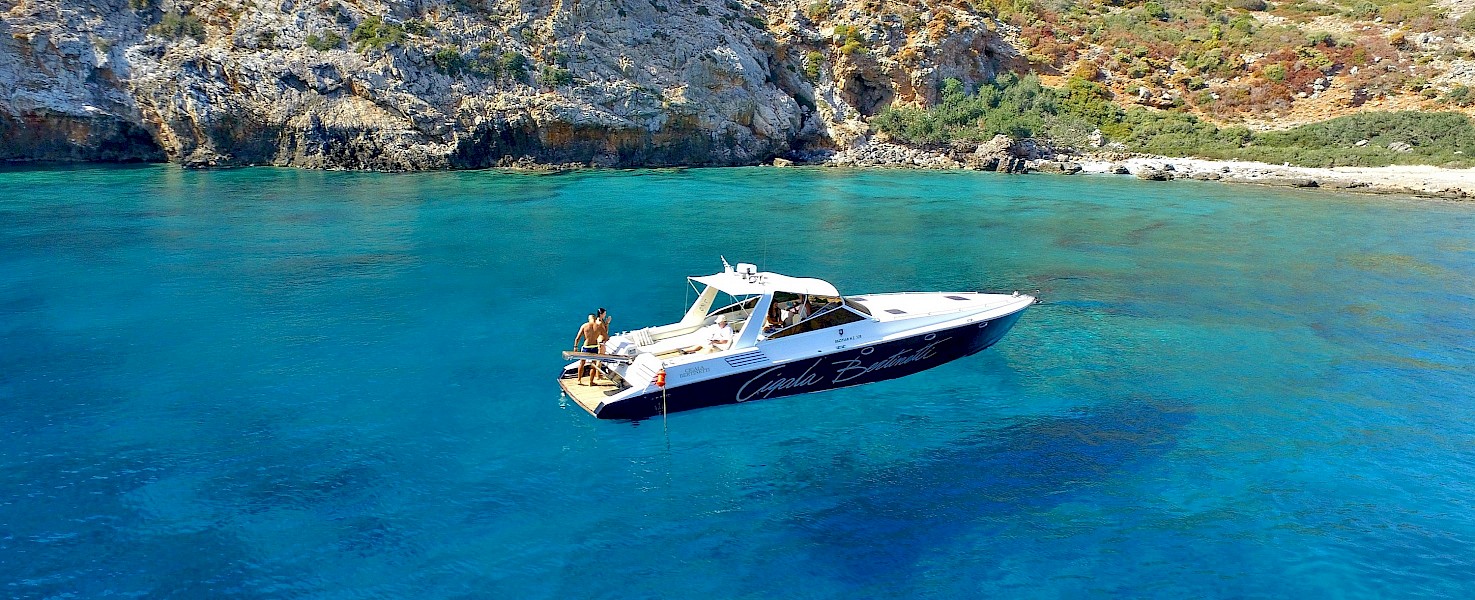 CHANIA PRIVATE YACHT TOUR MENIES BAY - CHOIRONISIA BAY
MENIES BAY - CHOIRONISIA BAY
CHANIA PRIVATE YACHT TOUR MENIES BAY - CHOIRONISIA BAY
Destination : Menies Bay –Choironisia Bay Boat type : Yacht Cigala 45ft
Boat Location : Chania Venetian harbour Departure from: Chania harbor
Would you like to explore the hidden wild beauty of Crete? Would you like to spend a relaxing day on a private beach? Then this is the destination you are looking for… The journey starts from the Venetian Harbor at 09:30 a.m. On a daily basis. After the welcome from Seastar Team at «Cigala –Bertinetti Yaght», you are ready to depart and travel by 35 knots velocity.
In a very short period of time (approximately 30 minutes), you will have reached your destination, the unique in wild beauty, peninsula biotope of Rodopou. Its natural beauty is combined with the diversity and rarity of plants and animals, a unique minority only found in this small part of the world. The peninsula consists of sea cliffs and rocks where venturous birds nest, as the hieraaetus and the falco peregrines.Τhe private bays with the crystal clear water will definitely charm you.
At the northern end of peninsula is the biggest bay, called «Menies». There you will have the opportunity to visit the ancient city of «Diktyna», where you can find the remains of an old temple, columns and ancient baths.
Moreover you can enjoy your swimming bath at crystal clear bluish – green seawater of bay, you may walk at the beach or relax at the sun beds of the yacht.
If you wish, you can also visit several private bays cut from the tourist road where you will enjoy your privacy.
Prices for your private crewed yacht charter
FULL DAY PRIVATE CRUISE
960 euro 01/04/2023-30/10/2023
Maximum passengers: 8 people
Departure : 09:30 am
Return : 03:30 pm
INCLUDED IN THE PRICE
Skipper & Steward
fuel
Beverages: water, soft drinks, beer and one bottle of wine.
professional snorkelling equipment ( masks, fins, snorkels)
vat and insurance
ADDITIONAL OPTION: A light lunch is available at an extra charge of 5€ per person and may be on the day of your tour.
Booking Conditions
Once you decide for your favorite cruise and the date of your convenience, please complete the booking form and send it to us. We will then check the availability and provide you with a booking confirmation including all necessary information and details.
Your booking does not require a prepayment. Since all our yacht activities are weather dependent we prefer full payment upon embarkation on our Yacht.
A few days before the cruise you will receive a further email and we will ask you to confirm again your attendance.
All our Yacht Cruises start and end at the old harbor of Chania. A map with the exact location will be provided with the booking confirmation.
Should you have more questions or require any information, please email us at tours@seastarchania.gr. We will be glad to respond as soon as possible.
PRICES FOR YOUR PRIVATE YACHT TOUR
Full day private yacht tour
960 euro 01/04/2022- 30/10/2022


Maximum passengers: 8 people

Departure : 09:30 am
Return : 03:30 pm
MENIES BAY - CHOIRONISIA BAY
MENIES BAY - CHOIRONISIA BAY
MENIES BAY - CHOIRONISIA BAY
MENIES BAY - CHOIRONISIA BAY
MENIES BAY - CHOIRONISIA BAY
MENIES BAY - CHOIRONISIA BAY
MENIES BAY - CHOIRONISIA BAY
MENIES BAY - CHOIRONISIA BAY
MENIES BAY - CHOIRONISIA BAY
MENIES BAY - CHOIRONISIA BAY
MENIES BAY - CHOIRONISIA BAY
MENIES BAY - CHOIRONISIA BAY
MENIES BAY - CHOIRONISIA BAY
MENIES BAY - CHOIRONISIA BAY
MENIES BAY - CHOIRONISIA BAY
MENIES BAY - CHOIRONISIA BAY
MENIES BAY - CHOIRONISIA BAY
BOOK MENIES BAY - CHOIRONISIA BAY
MORE YACHT TOURS
THEODOROU / HALF DAY
HALF DAY / FULL DAY
More Info: Theodorou / Half Day
THEODOROU / GLARONISI ISLAND
HALF DAY / FULL DAY
More Info: Theodorou / Glaronisi Island
BALOS / GRAMVOUSA ISLAND
FULL DAY
More Info: Balos / Gramvousa Island